It's past 25 March, 2018. It's now 12:50am on 26 March.
I feel very restless and uneasy. Perhaps the Holy Spirit is making me queasy.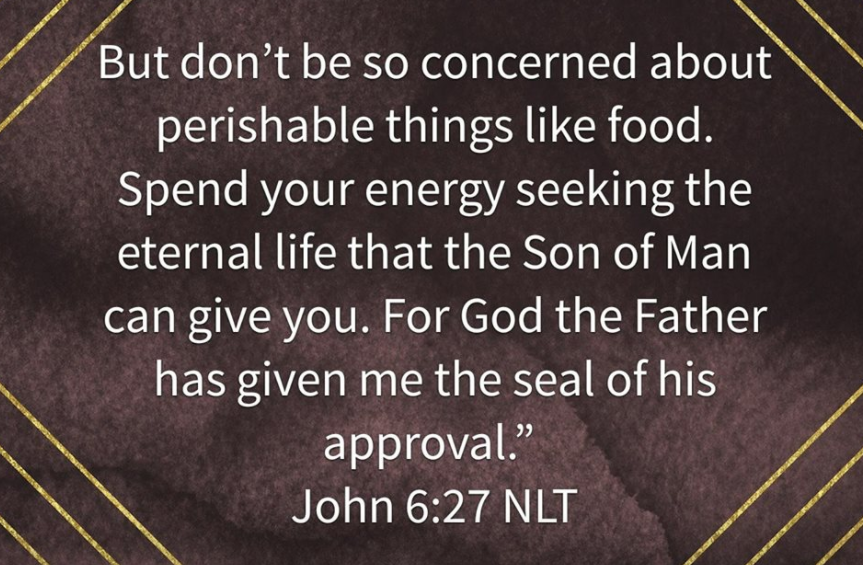 I feel this is a very tall order. I also don't know what it means. Maybe as I start off Passion Week, I will think what this means. What is God saying?
I read some interesting commentaries:-
The lesson for us is this: it is possible to seek Jesus and believe in his power, but be totally lost and worldly-minded. In our situation that means you can be a very religious person and have many right doctrines, but not be born again. What is missing is a spiritual feeding on Christ, a heart delight in all that he stands for, and a lowly childlike submission to his Word. Jesus urges us to examine ourselves to see whether even in our church life we are laboring for the bread that perishes instead of really feasting spiritually on the Lord we love. – Desiring God

The gospel is more than merely a way to go to heaven when you die. That is an apocopated gospel (if I might use that term), a cut-off gospel, a half-gospel. The full gospel is that Jesus is alive now, and is available to us now where we are, where we work, whatever we are doing, in our struggles, in our strife. – Ray Stedman
I feel this week I will attempt to read through the passages related to the Stations of the Cross. May God bless the reading of His word.
You are the King of Glory
You are the Prince of Peace
You are the Lord of heaven and earth
You're the Son of Righteousness
Hosanna to the Son of David
Hosanna to the King of Kings
Glory in the highest heaven
For Jesus the Messiah Reigns!
I was going through my feed and was reminded of the song above. It seems quite fitting for Palm Sunday.